Head Protection: A

Top Priority

!
Top-to-toe protection begins with the head. That's why safety helmets (hard hats) are such vital components in a worker's safety arsenal. High-performance safety helmets lower the risk of head injury by providing shock absorption from bumps and falling objects.
We know that it may seem obvious, but safety helmets are vital for your workplace safety.
Here's a recap on the many ways these helmets can work for you: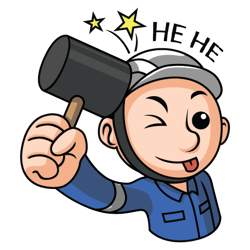 PROTECTS FROM HEAD INJURIES
An errant crate falling from heights can cause permanent damage if a worker does not don head protection.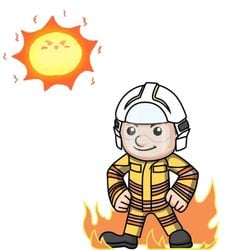 PROVIDES SUN PROTECTION
A safety helmet with a broad edge is recommended for construction workers because it provides appropriate protection from the sun's rays, which are hazardous to employees. This reduces the likelihood of being overheated and fatigued.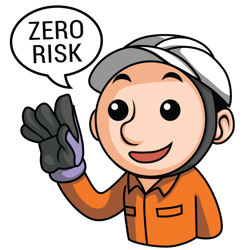 INCREASES CHANCES OF SURVIVAL IN ACCIDENT
If a worker is in a risky situation, such as a vehicle toppling or poorly handling industrial equipment, the risks of being hurt are reduced if the worker wears a safety helmet.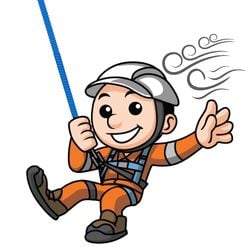 PROVIDES ADEQUATE VENTILATION
One aspect is the quantity of ventilation and comfort they provide to workers. No company wants overly hefty safety helmets that make employees feel burdened. The solution is the vent cap style helmets like the S62 series. This allows for appropriate ventilation and comfort for workers as they operate. Best of all, comfortable helmets mean that workers are more likely to comply.
INDUSTRIAL PROTECTION
In industrial locations the danger of head injury is so significant that extra protection is needed. In such circumstances, personnel should wear heavy duty helmets that consist of a shell and headband with strong shock absorption capabilities and lateral shock protection.
Choosing high-visibility products to keep workers safe is the smart choice. Invest in good head protection apparel to save lives! Check out the colours that are available*!
Choose Bullard!
Bullard helmets are your workhorse helmet option that provide great general head protection at reasonable prices. Check out the products below to level up your safety!
FAQs
What is the service life of hard hats? When should I replace my helmets?
We recommend to regularly check the head protection as a responsive solution to address the service life of hard hats. As the different hard hats are used under different working condition, it is impossible to provide a specific time frame for helmet replacement. However, a general guideline is to replace caps every five years.
Whereas, the suspension should be replaced sooner. On average, about every 12 months the suspension should be replaced.
How do I tell how old a hard hat is?
The date code indicates when the hat was molded. Date codes are molded into the hat shell and they specify the following:
Day;
Month; and
Year the hat or cap was molded.
The large arrow inside the "Month / Year" circle points to the month, and the two digits inside that inner circle indicate the year. The arrow inside of the "Day" circle points to day of month. Depending on what model hard hat / cap you have you may find the date code in one of two locations on the hat, on the inside of the shell or the underside front brim of the hat / cap.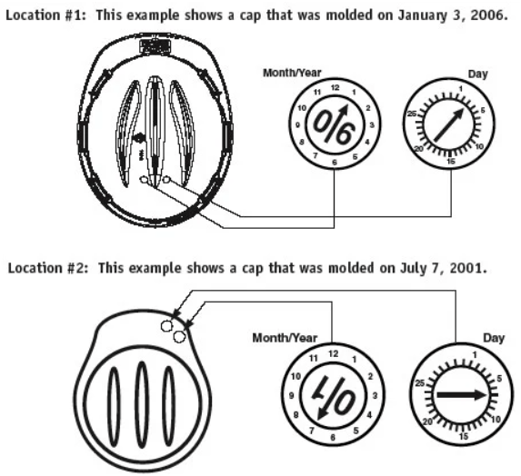 How do I ensure that my helmet will fit well?
If the safety helmet have vigorous movement around the your head with up and down or side to side movements, it is too loose. You can look for chinstrap to ensure a durable and firm attachment to help keep the hat in place.
P.S. Bump caps refer to safety helmets
Interested?
Chat us up using our live chat today and
let us help you make your logistics job comfortable and safe!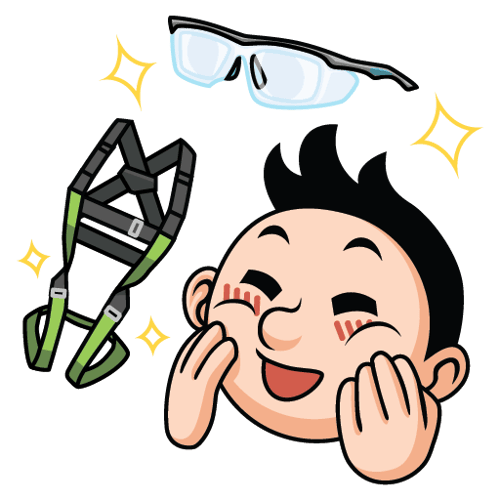 We're here to support you.
Need bulk order?
Add items to cart & hit the <Request A Quote button>.
Live chat with us -
From PPE to safety advice.
Get help from our experts.